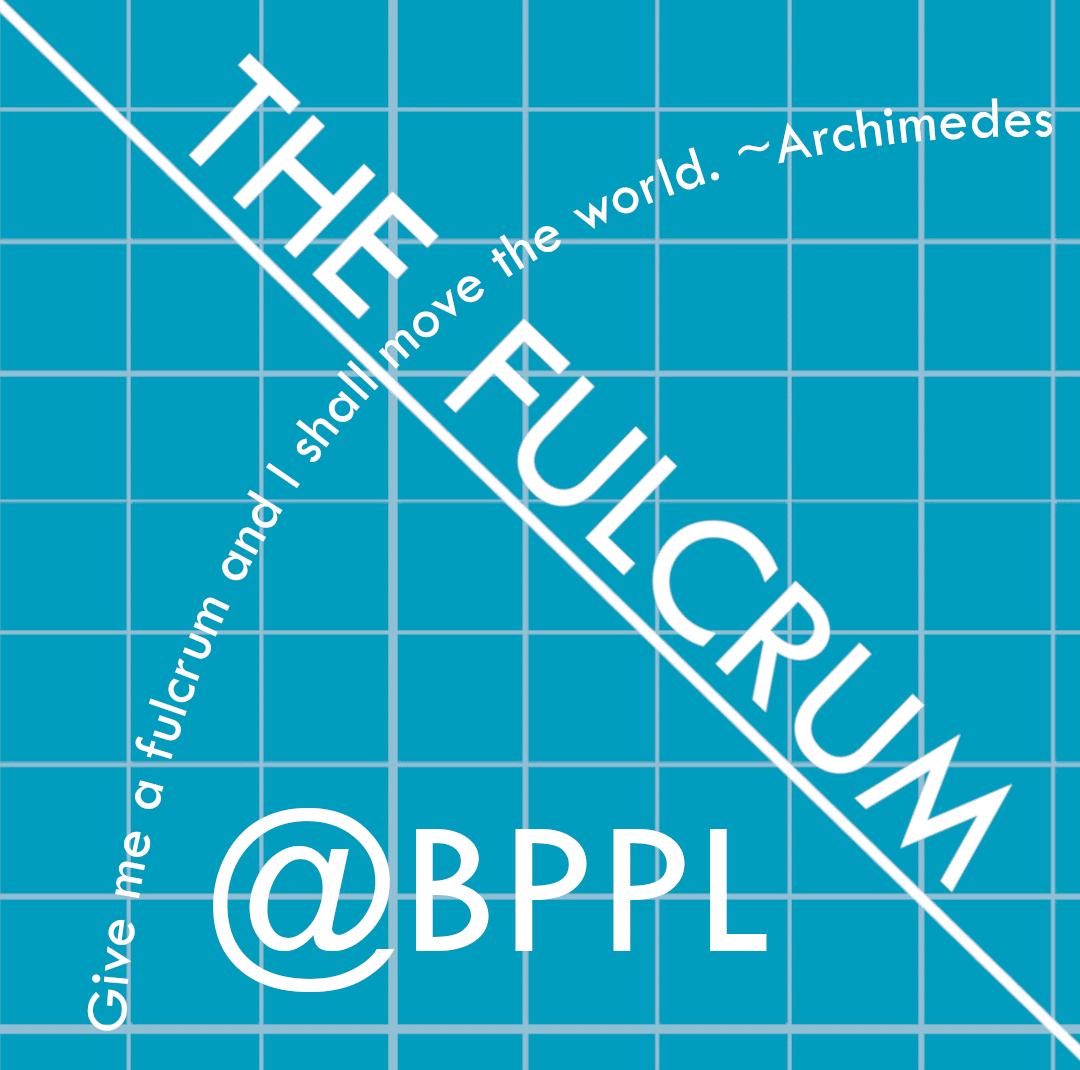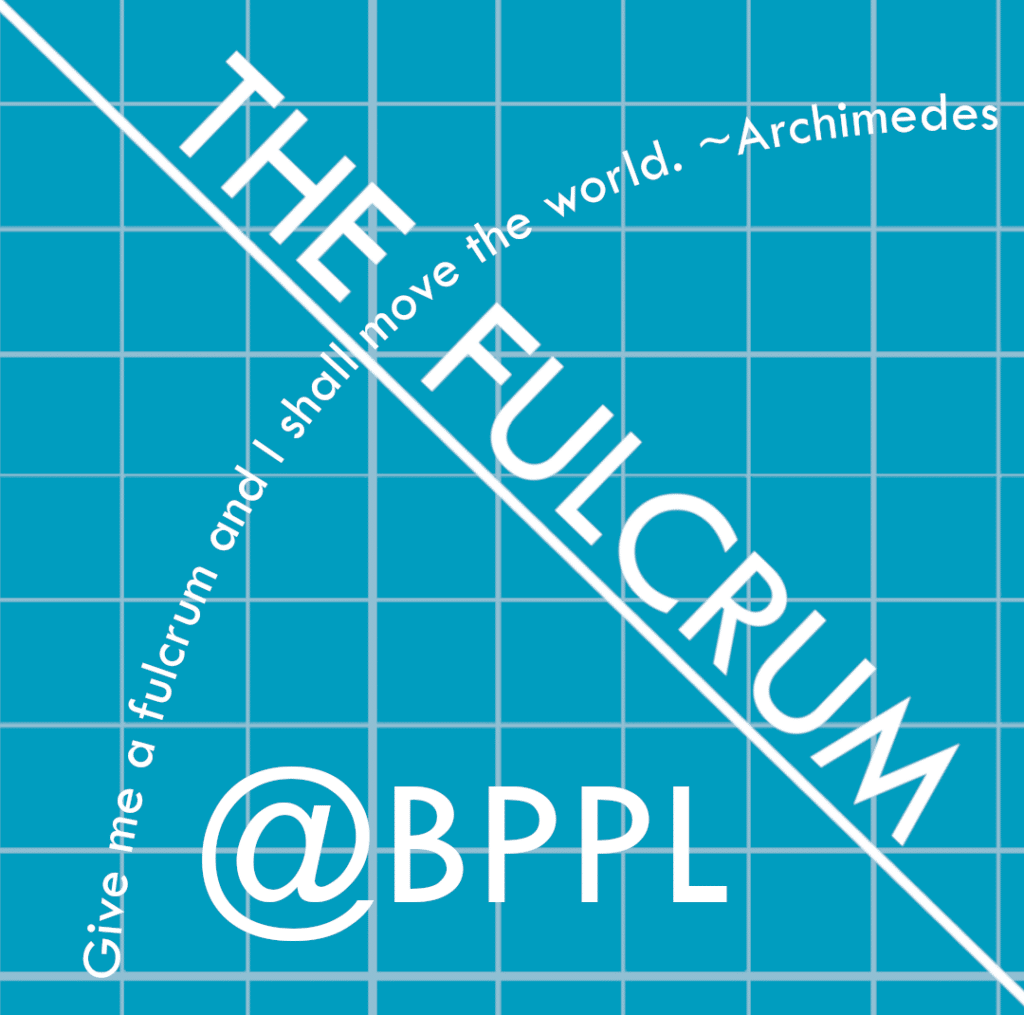 What is The Fulcrum?
The Fulcrum is a collaborative makerspace for patrons of all ages
to explore, create and learn.
What does it offer?
Technology: 3D printers, Cricut machines, Laser Engravers, Mug
and T-shirt Presses, Sewing machines, Ozobots, and much more.

Expertise: a Librarian will always be on staff to assist you with a project and answer your questions.

Instruction: The Library hosts various classes and programs every week in The Fulcrum. Check the Calendar of Events for details!
Bayport-Blue Point Public Library Fulcrum/Makerspace Policy
• Use of the Fulcrum/Makerspace is reserved for patrons of the Bayport-Blue Point Library with a card in good standing.
• Appointments to use the equipment are recommended. Drop in visits are allowed ONLY if there are no scheduled appointments or programs.
• When reserving the Makerspace or its equipment, scheduled Library programs have priority, followed by patrons who have made a reservation ahead of time. If the Makerspace room or its equipment is not reserved, it will be made available on a first-come, first-served basis, subject to staff availability.
• Parent/Guardian Supervision is recommended for patrons under the age of 13.
• Food and drink are not permitted in the Fulcrum/Makerspace.
• All project submissions must be reviewed by the BBP staff prior to production.
• Any items produced in the Fulcrum/Makerspace must not be prohibited by local, state or federal law; obscene, offensive, unsafe or harmful; pose a risk or endanger others; weapons or components of weapons, weapon replicas, objects that could be considered weapons; or objects that would violate patents, copyrights, trademarks, registered designs or any other proprietary objects. All items must be the patrons own design or reside in the public domain and will not conflict with any BBP policy.
• All users of the Fulcrum/Makerspace Studio spaces shall comply with all local rules for each individual space.
• Staff will operate the equipment in the Fulcrum/Makerspace unless otherwise instructed. Walk-in patrons without an appointment are permitted to use certain equipment for a period of 2 hours unless otherwise instructed by staff.
• Bayport-Blue Point Public Library is not liable for any damaged material or media belonging to members utilizing the Fulcrum/Makerspace equipment or facilities.
Guidelines:
∙ Follow all safety guidelines and exercise caution with all Makerspace equipment.
∙ The Library is not responsible for any injuries caused by improper use of equipment.
∙ Any work saved on Library computers will be deleted once the computer is turned off and cannot be recovered. Patrons must save their files on an external storage device.
∙ The Library is not responsible for any damage to a patron's materials or files, or for any manufacturing defects.
∙ Be respectful of other patrons, and do not disrupt someone's work. Be sure to clean your work area and all equipment before leaving.
• The Fulcrum/Makerspace closes 30 minutes before the library closes.
Costs:
• Costs may be associated with the use of particular devices/equipment:
3D printing: 3 print requests per week at $.10 per gram
Laser Engraving/Cutting: 3 requests per week at $.25 cents per minute
Poster Printing: 3 requests a week: Standard paper- $1.00/ft, Glossy photo Paper- $2.00/ft
Cricut Matte Canvas – $3/ft
Cricut Mug: $5 per mug
• Patrons may bring their own materials to use with Makerspace equipment if they wish. When doing so, patrons should show the material to Library staff before using it so they can make sure it can be used safely with that particular piece of equipment.
Check the links below for recommended software, tools and artwork.