A Brief History Of The Bayport-Blue Point Public Library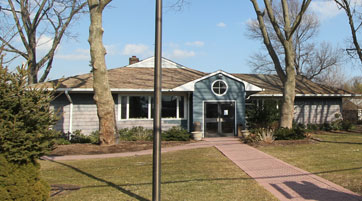 Founded in 1938 as a Blue Point P.T.A. project, the Blue Point Public Library began with a collection of donated books. Tradition has it that these books were gathered by wheelbarrow from the home of local residents (hence our logo). The library's first home was a small room in the Blue Point School. Later sites included part of the building now occupied by the Blue Point Liquor Store, a small house on the corner of Madison Street, now replaced by the dentist's office, and the Bennett House on Blue Point Avenue.
In 1957, a new building was constructed directly behind Bennett house, which was subsequently torn down. (Oddly enough, there was a hot debate as to whether the new building should face Blue Point Avenue or Madison Street. Now, 33 years later, we have entrances on both streets.) The present building, the result of two additions, is nearly three times the size of the 1957 building.
The present character of the library owes much to those early volunteers, whose dedication and expertise laid a solid foundation for the book collection and the philosophy of community service.
When Bayport and Blue Point school districts merged in 1952, the library became the Bayport-Blue Point Public Library. Until 1970, the library was staffed entirely by volunteers, one of the last all-volunteer libraries in the state.
The dedication and expertise of early volunteers laid a solid foundation for the library's book collection and philosophy in community service. Today, Bayport Blue-Point Library offers not only books and audiobooks and ebooks, but home entertainment that ranges from Blu-rays and DVDs to video games. Online resources for digital downloads or learning tools are a mouse click away on a computer or laptop, or even at your fingertips on touch screen devices. Tickets to parks and museums are also available to patrons of all ages. As of 2018, patrons can apply for passports at Bayport-Blue Point Library as well. The library has become a cultural center of rare quality for a community of this size, and one in which the local citizens can take great pride.