Display Case East: Ronald Bush began working on his family farm at age three, pushing a broom to help feed the cows. He currently runs Bush Farms, which is an agricultural museum located in Brookhaven. The pieces in the display case are just a few of the thousands of items he has collected over the years from area farms.
Display Case West: Alex Jerome creates items out of recycled objects based on The Walking Dead, Star Wars, Marvel and DC Comics. His display is titled "The Art is in the Garbage."
Display Case East: Patricia Cudak has been collecting Barbies for over 30 years and has over 50 dolls, including Maya Angelou, Amelia Earhart and a commemorative Queen Elizabeth Barbie.
Display Case West: Azuree Agnello is a librarian in Suffolk County who has collected salt and pepper shakers for 11 years and has amassed over 150 of them from her travels and as gifts from family members and friends.
Display Case East: Frank Reiser possesses what could be the world's only remaining documented specimen from the Kentucky Meat-Shower of 1876. The display also includes original texts, writings, and artifacts related to the meat shower and lays out the chain of evidence supporting the specimen's authenticity.
Display Case West: Ellen D'Onofrio crafts whimsical wooden miniature houses with different holiday themes.
Display Case East: Pamela Varacek's art is about connecting with creative intuition and allowing it to guide through the process of creating. Pam owns Mini
Monet Art Studio in Sayville where she teaches art classes to all ages.
Display Case West: Anne McNulty creates celebrity portraits using pencil and charcoal as her mediums.
Display Case East: Local glass artists Sandy and Kathryn Seff of Colorful Visions Art Glass Studio will be displaying spring-inspired art glass designs to welcome the new season.
Display Case West: Tom Brannock strikes just the right note with his collection of vintage bowling items.
Display Case East: Local artist Jeanette Leonard, owner and designer of Blue Harbor Jewelry, displays her unique beach-inspired jewelry and shadowboxes.
Display Case West: Expert woodworker Joe Novak displays his whimsical wood carvings that include birds, gnomes, and other creatures.
The east display case shows the history of the buildings our library has occupied.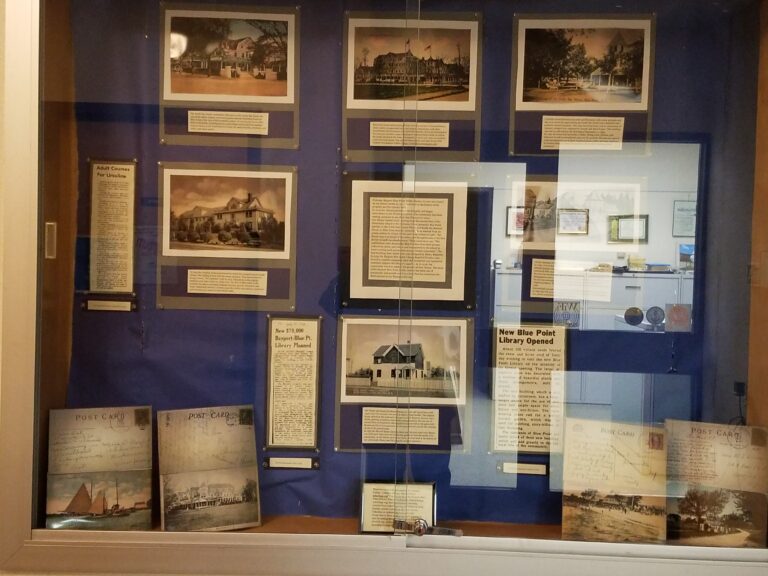 Local artist Joan Siciginano's landscape paintings are displayed in the LeCluse Case. Our West Case features a SEED (Student Educational Enrichment and Development Foundation) display by Susan Chant. Get ready for the cold weather with Laura Barrella's winter-themed display in the East Case.
Add Your Heading Text Here
Add Your Heading Text Here