Display Case East: Pamela Varacek's art is about connecting with creative intuition and allowing it to guide through the process of creating. Pam owns Mini
Monet Art Studio in Sayville where she teaches art classes to all ages.
Display Case West: Anne McNulty creates celebrity portraits using pencil and charcoal as her mediums.
Display Case East: Local glass artists Sandy and Kathryn Seff of Colorful Visions Art Glass Studio will be displaying spring-inspired art glass designs to welcome the new season.
Display Case West: Tom Brannock strikes just the right note with his collection of vintage bowling items.
Display Case East: Local artist Jeanette Leonard, owner and designer of Blue Harbor Jewelry, displays her unique beach-inspired jewelry and shadowboxes.
Display Case West: Expert woodworker Joe Novak displays his whimsical wood carvings that include birds, gnomes, and other creatures.
The east display case shows the history of the buildings our library has occupied.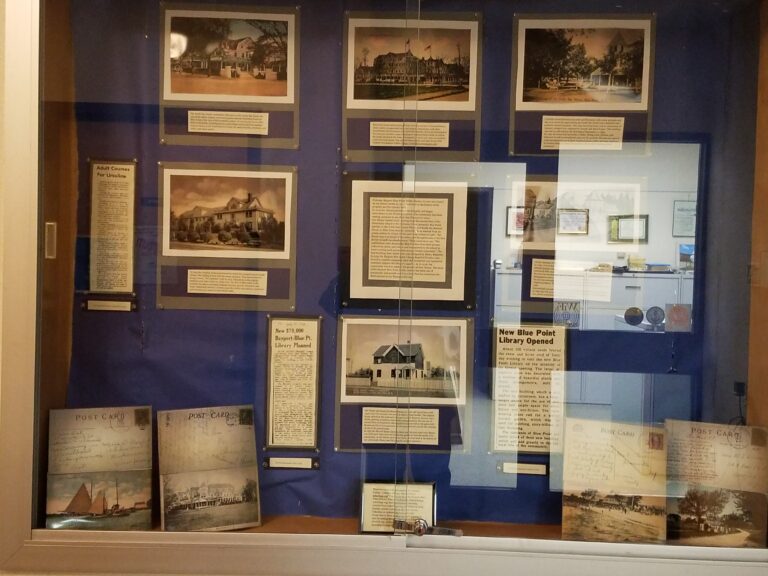 Local artist Joan Siciginano's landscape paintings are displayed in the LeCluse Case. Our West Case features a SEED (Student Educational Enrichment and Development Foundation) display by Susan Chant. Get ready for the cold weather with Laura Barrella's winter-themed display in the East Case.
Add Your Heading Text Here
Add Your Heading Text Here