Display Case West: Bird photography by Bob Glasser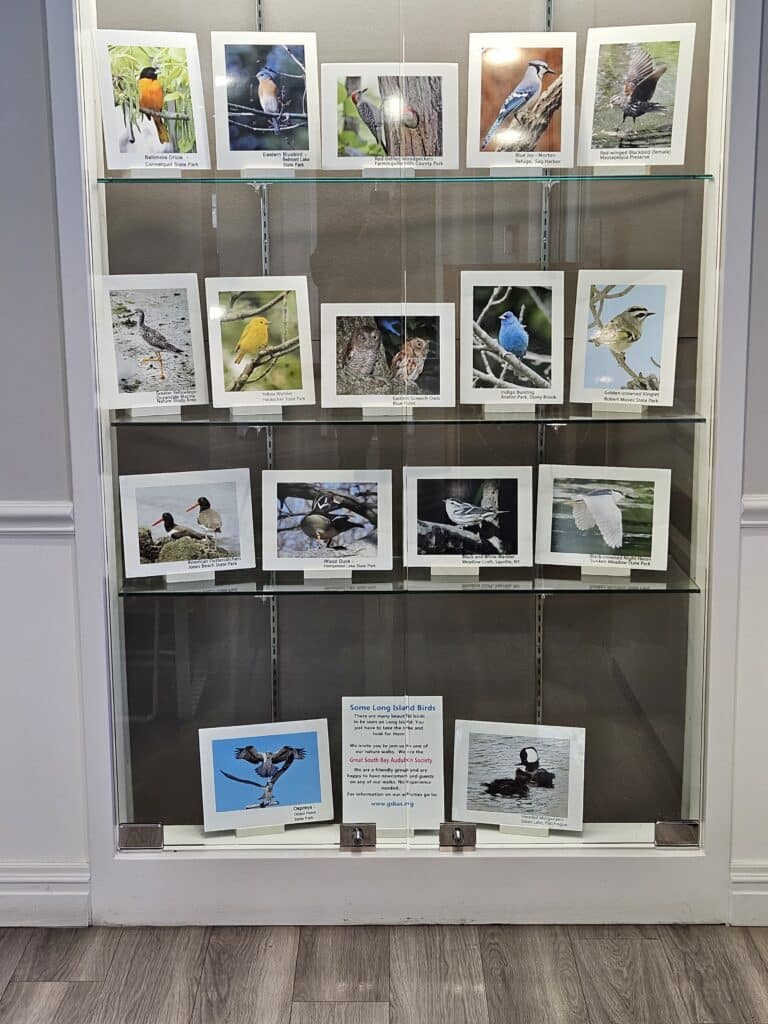 Display Case East: Seashell artwork by Alice Schulteis
Display Case West: Joe Novak's Scrimshaw art will be on display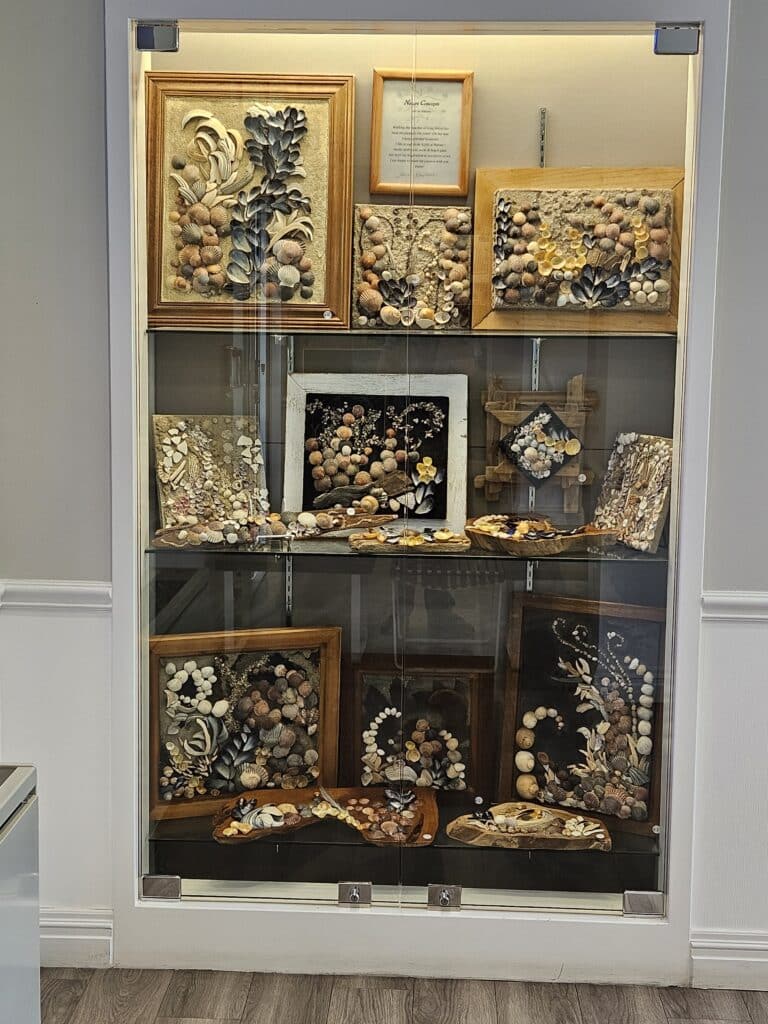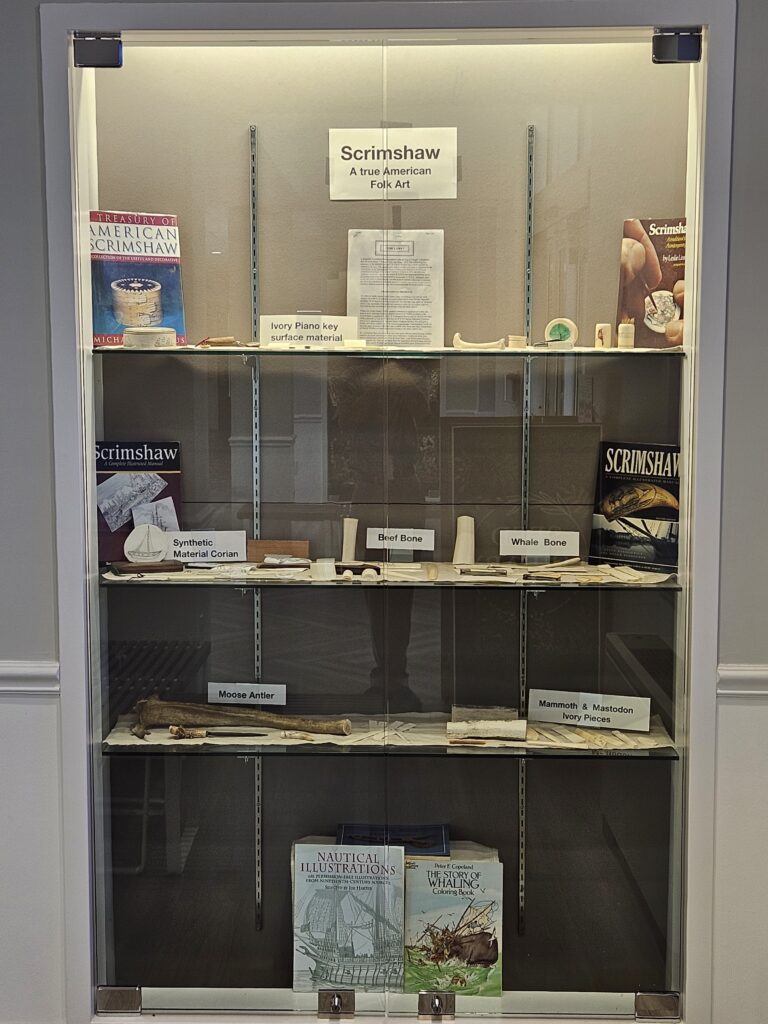 Display Case West: A tiny art show created by local community members.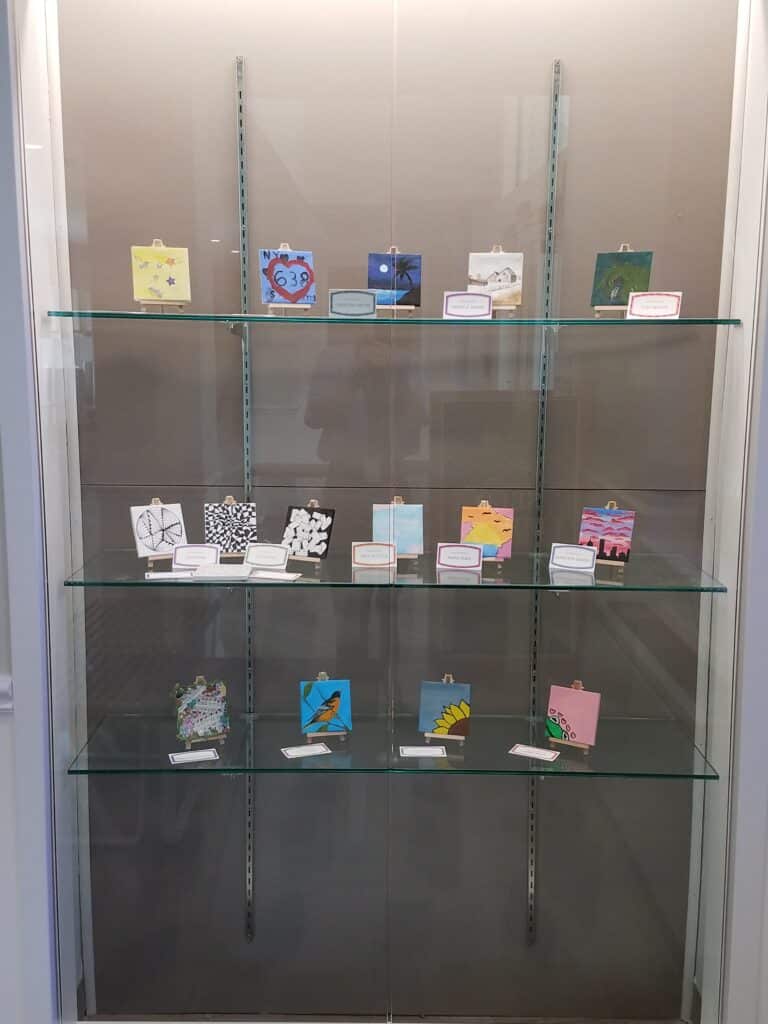 Display Case East: Jeff went on a two-week photographic safari in Kenya and took some amazing pictures of lions, giraffes, elephants, zebras and wildebeests in their natural habitats.
Display Case West: Chris Cohen has been painting wildlife since childhood and began making pottery five years ago. She enjoys the color and design of pottery and creating porcelain mosaics.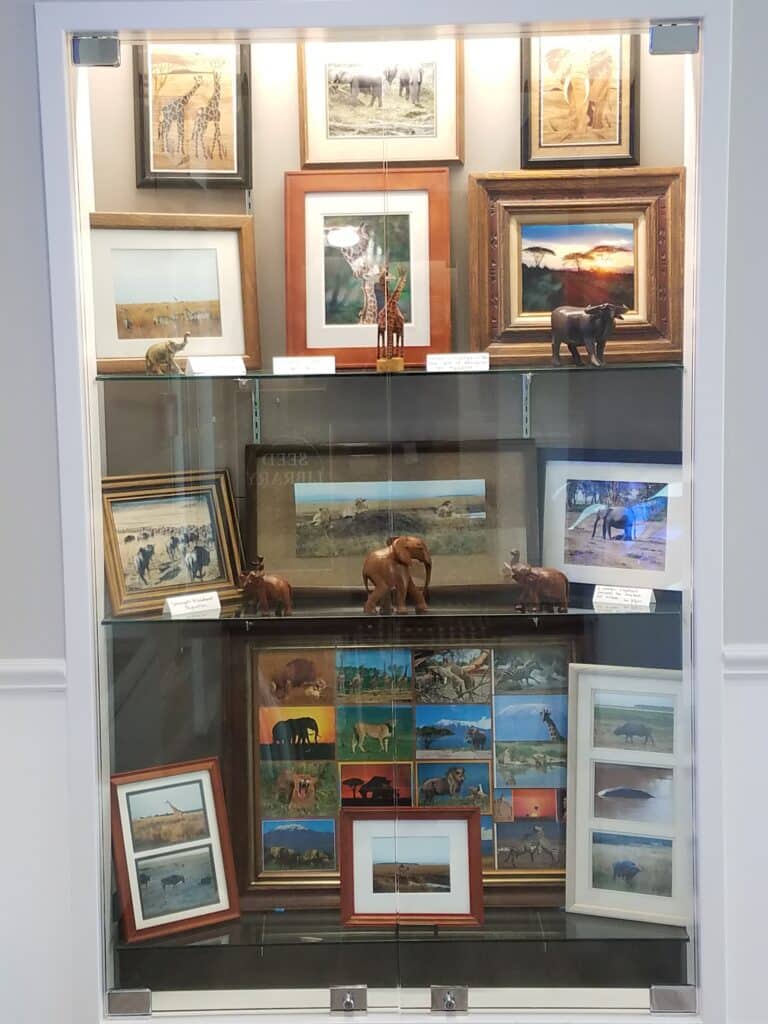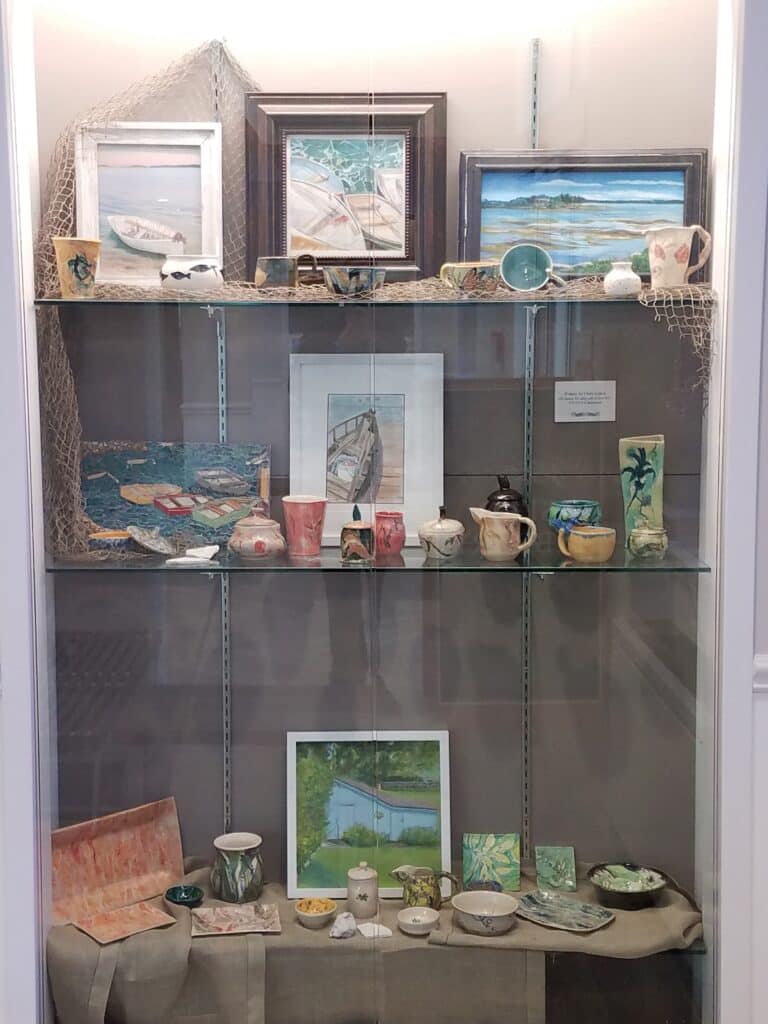 Display Case East: Brianna Heffernan's Nana is the inspiration for most of her work because they would walk the beach together picking up beach glass, shells and other finds when she was a child. She loves being able to create unique artwork from things that come from the ocean, which is her happy place.
Display Case West: Matthew Tchernev has been woodworking since he was 13 years old and started out with only very basic hand tools and has been doing it as a hobby ever since. Inspiration for projects mainly come from images and videos he finds online, but also come from things he may see outside of his house that he finds interesting.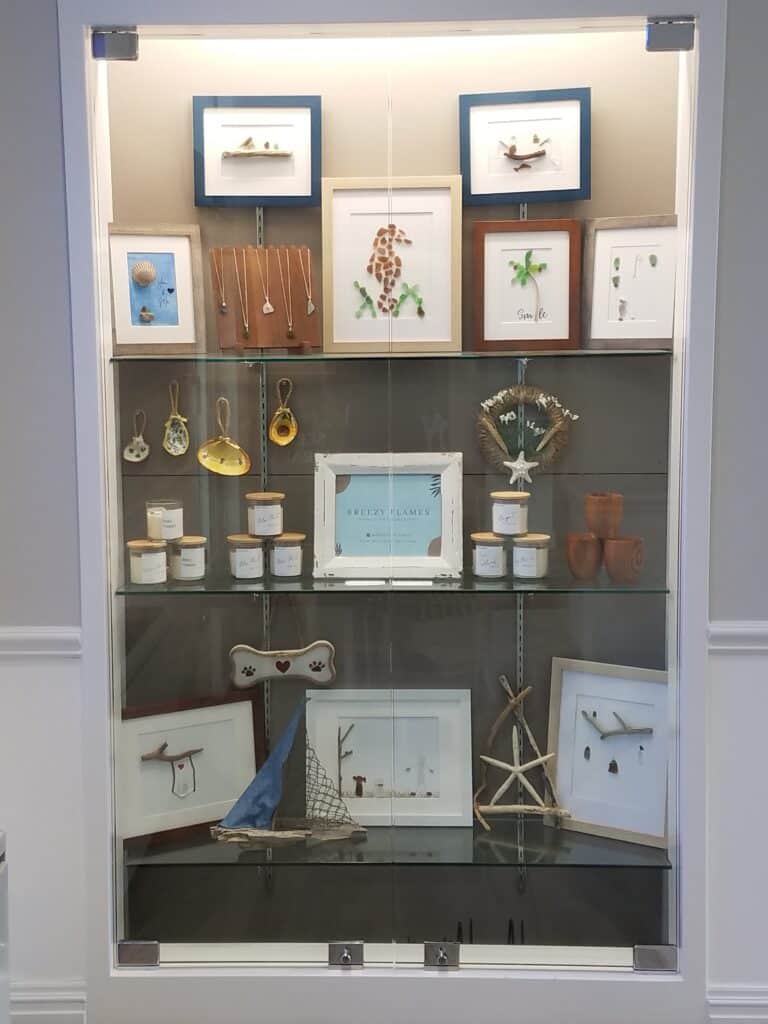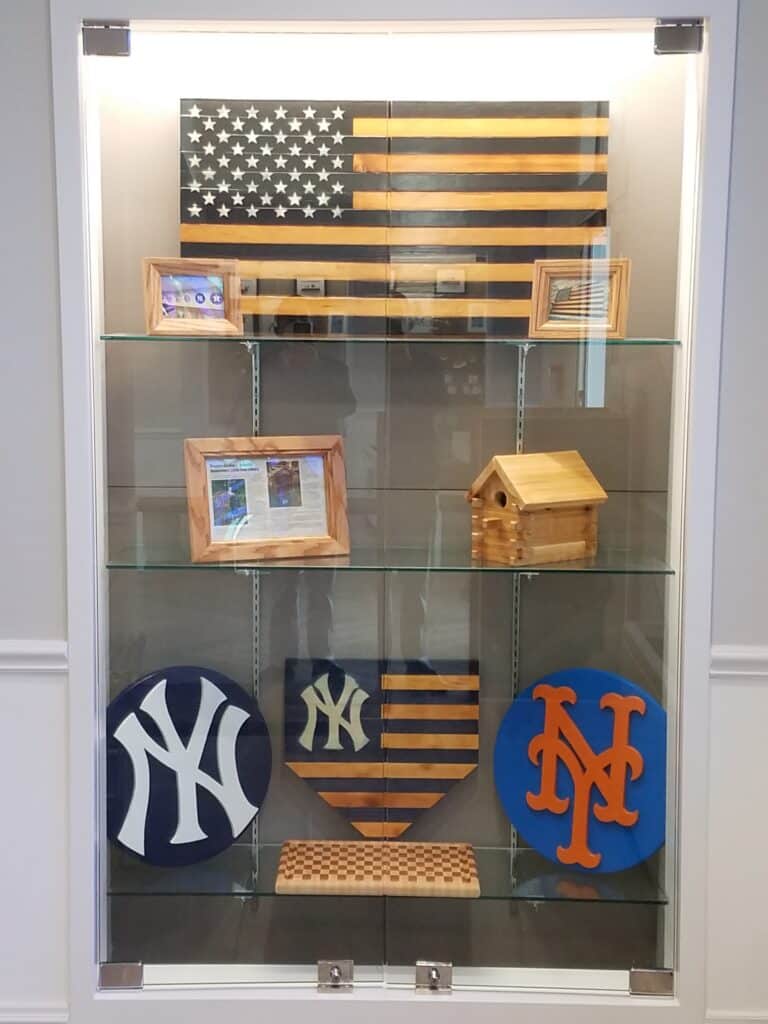 Display Case East: Gabriella Grama finds mosaic a versatile and flexible medium that allows room for experimentation and creativity.
Display Case West: Hannah Giannico is a local Blue Point artist who is inspired by her love of the ocean and beautiful coastal life on Long Island's
South Shore. Her original designs can be found on apparel, blankets and artwork
Display Case East: Jerry McCluskey has been collecting memorabilia from Texaco for many years. Texaco was founded in 1902 and was a major independent oil company until its merger with the Chevron Corporation in 2001.
Display Case West: Sean McCluskey shares his memorabilia from the United State Marshals Service, which was created by George Washington in 1789.
Display Case East: Jill Barclay is inspired by nature and treats each piece of jewelry she creates like a tiny canvas and uses all kinds of natural materials.
Display Case West: Tim Tomasini has been collecting clocks for over 25 years. His collection includes items from the 1800s, carriage clocks, kitchen clocks and bridal clocks.
Display Case East: Jim Cesare has been collecting antique toys for many years and is excited to share his vintage items at the library.
Display Case West: Beth Levine, The First Lady of Shoes, designed shoes for several First Ladies, as well as Barbra Streisand, Marilyn Monroe and Nancy Sinatra.
Display Case East: Alison Ryczek is the owner of Pottery on Wheels, which offers in studio or in home pottery classes. Alison has been making pottery for over 20 years and is inspired by functional art that adds beauty to tables and homes.
Display Case West: Brooke Ackerman has created her artwork out of colored pencils and acrylic paints. She enjoys drawing and painting still life's, portraits, and seascapes on seashells and is greatly inspired by the natural world.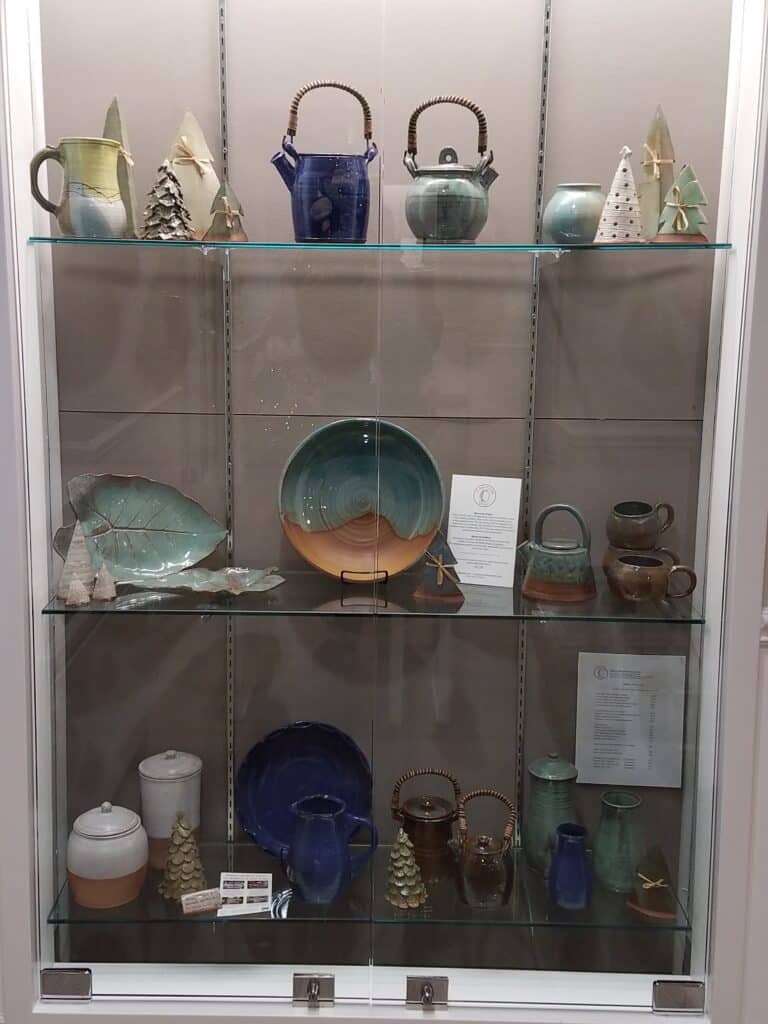 Display Case East: Barbara Keute has been doing French Flower Beading since her teens when her grandmother's friend gifted her some beads. She has been beading ever since and her artwork has been shown in several European museums.
Display Case West: depression glass is glassware made from 1929 to 1939, often clear or colored translucent that was distributed free or at low cost, in the United States and Canada. Brenda Kirschenheiter inherited her collection from her mother, who acquired the glassware by going to the movies during the Depression.
Display Case East: Michael Burke is a diehard New York Mets fan who has been collecting Mets' baseball memorabilia for over 25 years.
His collection includes baseball gloves from the 1890s to the 1950s. His favorite player is Ed Kranepool, who played for the Mets in the 1960s and 1970s.
Display Case West: Information about the Bayport Blue Point Chamber of Commerce and this year's Community Expo.
Display Case East: John Kowalchuk has been woodworking for 25 years and is a member of the Long Island Wood Turners Association. He enjoys working with exotic woods from around the world for their unique colors, and with local wood that can be found on Long Island.
Display Case West: Harry Schnepf creates custom made birdhouses that are based on real houses. He loves birds and has been making birdhouses for 10 years.
Display Case East: Ronald Bush began working on his family farm at age three, pushing a broom to help feed the cows. He currently runs Bush Farms, which is an agricultural museum located in Brookhaven. The pieces in the display case are just a few of the thousands of items he has collected over the years from area farms.
Display Case West: Alex Jerome creates items out of recycled objects based on The Walking Dead, Star Wars, Marvel and DC Comics. His display is titled "The Art is in the Garbage."
Display Case East: Patricia Cudak has been collecting Barbies for over 30 years and has over 50 dolls, including Maya Angelou, Amelia Earhart and a commemorative Queen Elizabeth Barbie.
Display Case West: Azuree Agnello is a librarian in Suffolk County who has collected salt and pepper shakers for 11 years and has amassed over 150 of them from her travels and as gifts from family members and friends.
Display Case East: Frank Reiser possesses what could be the world's only remaining documented specimen from the Kentucky Meat-Shower of 1876. The display also includes original texts, writings, and artifacts related to the meat shower and lays out the chain of evidence supporting the specimen's authenticity.
Display Case West: Ellen D'Onofrio crafts whimsical wooden miniature houses with different holiday themes.
Display Case East: Pamela Varacek's art is about connecting with creative intuition and allowing it to guide through the process of creating. Pam owns Mini
Monet Art Studio in Sayville where she teaches art classes to all ages.
Display Case West: Anne McNulty creates celebrity portraits using pencil and charcoal as her mediums.
Display Case East: Local glass artists Sandy and Kathryn Seff of Colorful Visions Art Glass Studio will be displaying spring-inspired art glass designs to welcome the new season.
Display Case West: Tom Brannock strikes just the right note with his collection of vintage bowling items.
Display Case East: Local artist Jeanette Leonard, owner and designer of Blue Harbor Jewelry, displays her unique beach-inspired jewelry and shadowboxes.
Display Case West: Expert woodworker Joe Novak displays his whimsical wood carvings that include birds, gnomes, and other creatures.
The east display case shows the history of the buildings our library has occupied.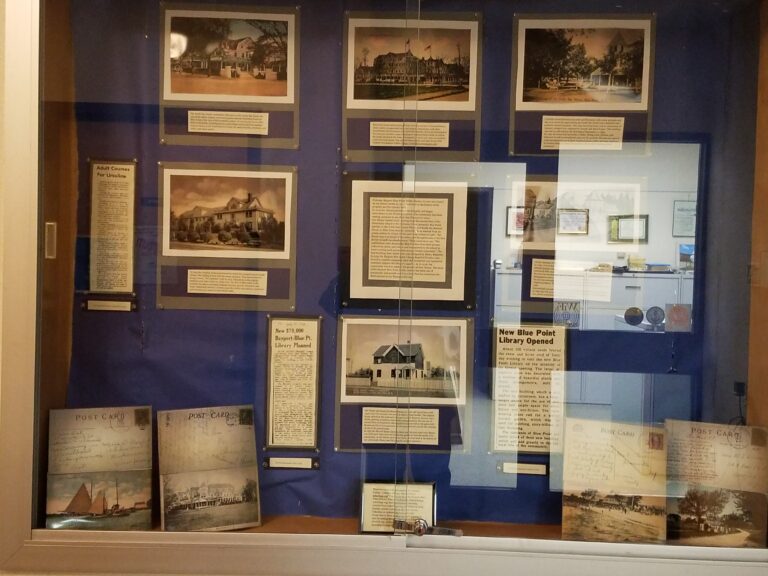 Local artist Joan Siciginano's landscape paintings are displayed in the LeCluse Case. Our West Case features a SEED (Student Educational Enrichment and Development Foundation) display by Susan Chant. Get ready for the cold weather with Laura Barrella's winter-themed display in the East Case.
Add Your Heading Text Here
Add Your Heading Text Here